What is SOL Staking?
There's so much to keep up with when it comes to the crypto market. It's not easy to keep track of all the cryptocurrency and crypto trends available today, let alone all the opportunities buyers have to use it. One thing that has become increasingly popular is crypto staking.
Crypto staking involves the process of delegating crypto holdings with the purpose of securing networks and gaining interest and rewards. It's a great way to earn more crypto, as long as the crypto itself utilises the proof-of-stake model – such as Solana.
People are asking these questions
✅ Yes, you can stake Solana through a credible crypto exchange or with a crypto-wallet that allows staking.
SOL staking is the process whereby token holders delegate some or all of their crypto to a validator for a period of time in which they can earn rewards and partake in the security and growth of the network.
You can stake Solana with a crypto exchange like Binance, FTX, Kraken or Coinbase, or with a crypto wallet that allows staking (such as Ledger).
You can stake SOL by finding a validator with a trusted crypto exchange or crypto-wallet. All the instructions you need to do so will be found on the platform or wallet.
⭐ How many SOL coins are there?
There's no fixed maximum amount of SOL coins in circulation.
⭐ How to stake Solana on Coinbase?
Coinbase SOL staking working on Coinbase Cloud. All the information on how to do so can be found on the Coinbase platform.
Solana charges €0.00024 per transaction. So this SOL rate is one of the smallest in the cryptocurrency market.
In this review, the SmartCasinoGuide team has researched the latest developments in the crypto market and aims to inform existing and potential buyers about everything they need to know before they invest.
With us, you'll learn all about SOL staking and how it works, including how to stake Solana, the risks and rewards involved, where to stake SOL and how much you could potentially earn with SOL staking.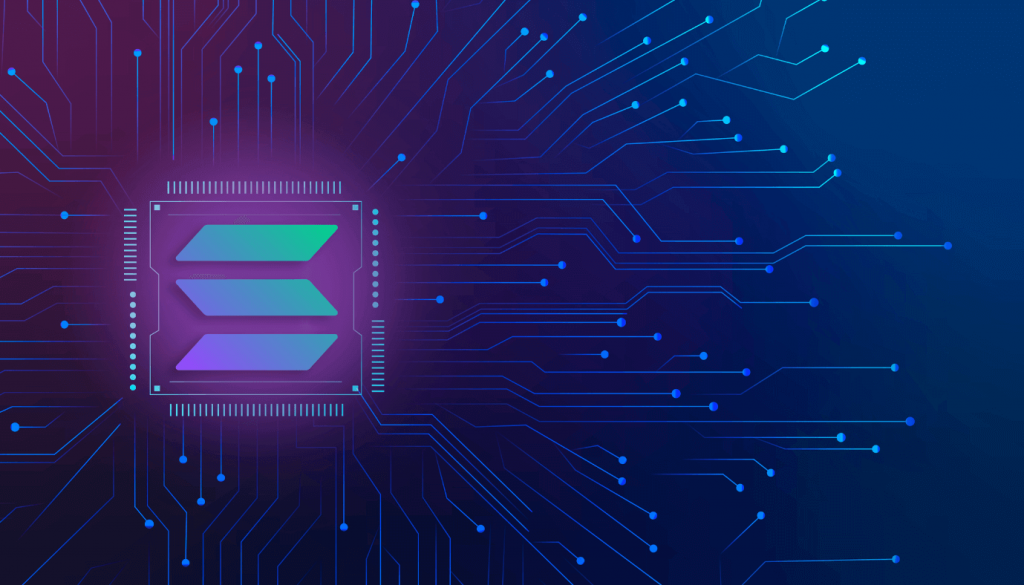 We guarantee you'll have a full range of knowledge to draw from by the end of the review so that you can begin your rewarding staking journey.
SOL Staking Explained
What's SOL staking, and why should you consider doing it? Staking your Solana crypto will contribute to securing the SOL network and allow you to earn rewards in the process.
Buyers stake their coins by delegating tokens to validators that'll process their transactions and operate the network. The longer the period of time the tokens are delegated, the higher the returns for the token holder.
Additionally, the more stake delegated, the more frequently the validator makes new transactions to the ledger, earning more rewards. Staking is a financial model that benefits both the delegator and the validator of the crypto token.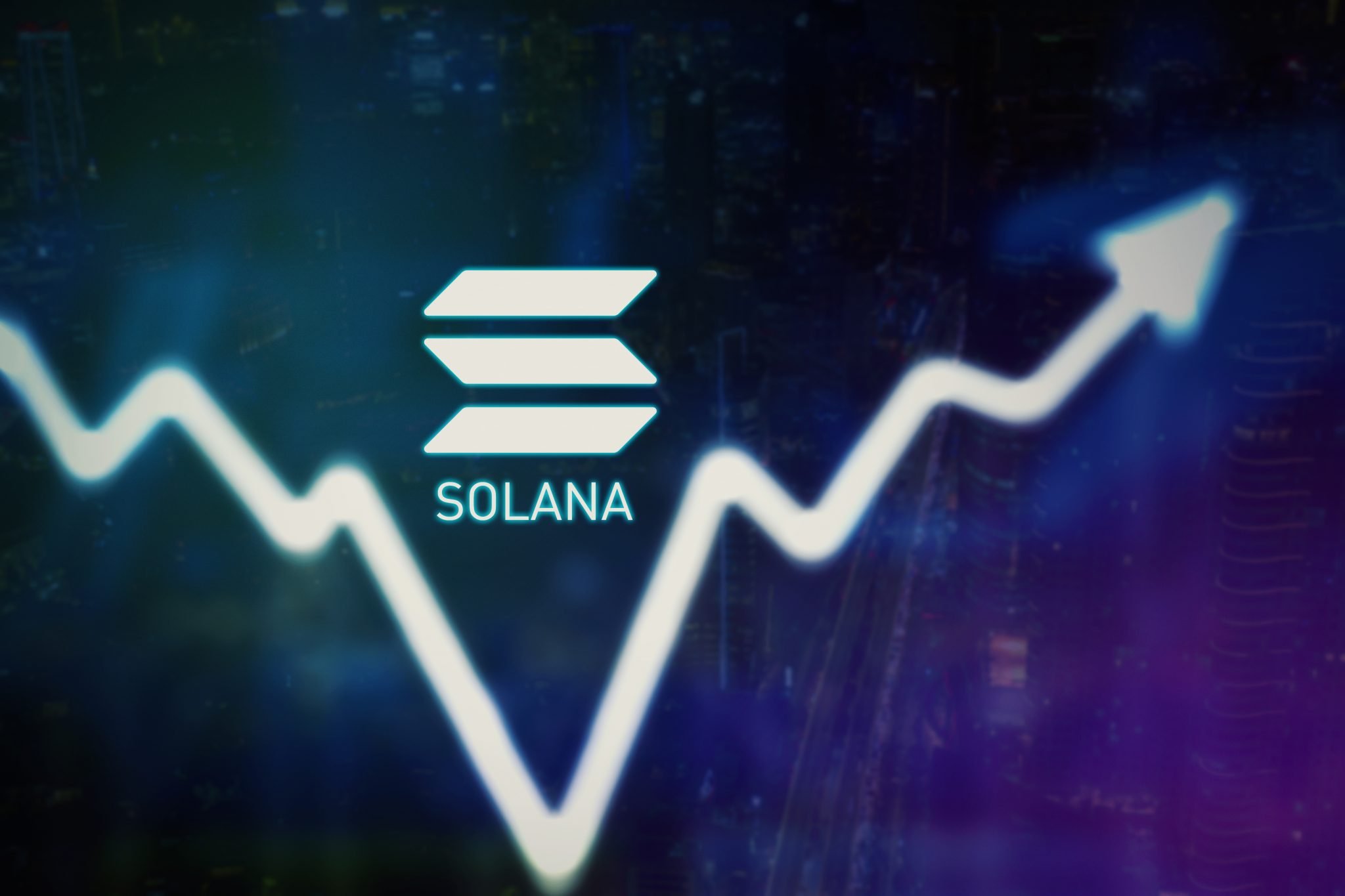 In the case of SOL staking, the token holder will assign either all or just a portion of their crypto to a validator in order to strengthen the security of the network and earn staking rewards in doing so.
Ultimately, staking is an endeavour that benefits the token holder, the validator, the network and the crypto market as a whole – as long as you go about it the right way.
How Do I Stake My SOL Tokens?
You can stake SOL in two main ways; either through a crypto wallet that supports staking or with a crypto exchange. If you already have a crypto wallet and want to begin staking your SOL, first check to see if it supports staking. If it doesn't, find a wallet that'll allow SOL staking and use it instead.
The wallet itself will provide all the instructions you need to create your staking account (which will be different from an account used for just sending and receiving tokens).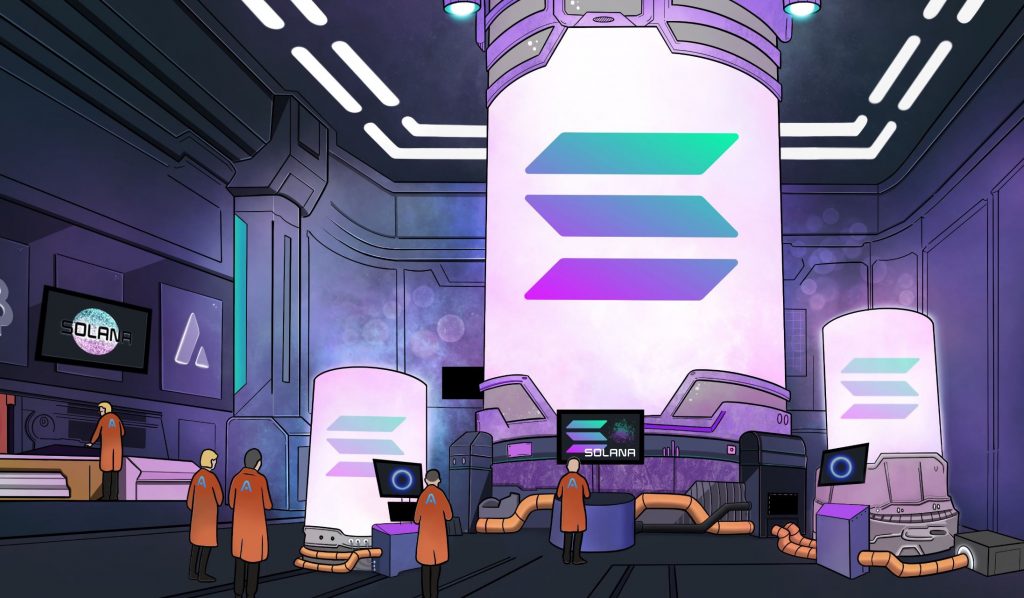 Once the staking account is created, buyers can select a validator and delegate their stake amount. Again, the crypto wallet will offer all the instructions you need to do this.
Alternatively, if you don't want to stake your SOL with a crypto wallet, you can also do so with a crypto exchange. Crypto exchanges are platforms where investors can buy and sell cryptocurrency (read this – best crypto staking platforms).
There are many noteworthy crypto exchanges online that offer different advantages depending on what token holders are looking for.
Whether you've been trading crypto for years or you're just starting out, you'll find the perfect exchange for you once you've gained some knowledge. Some crypto exchanges provide staking areas where users can stake their SOL.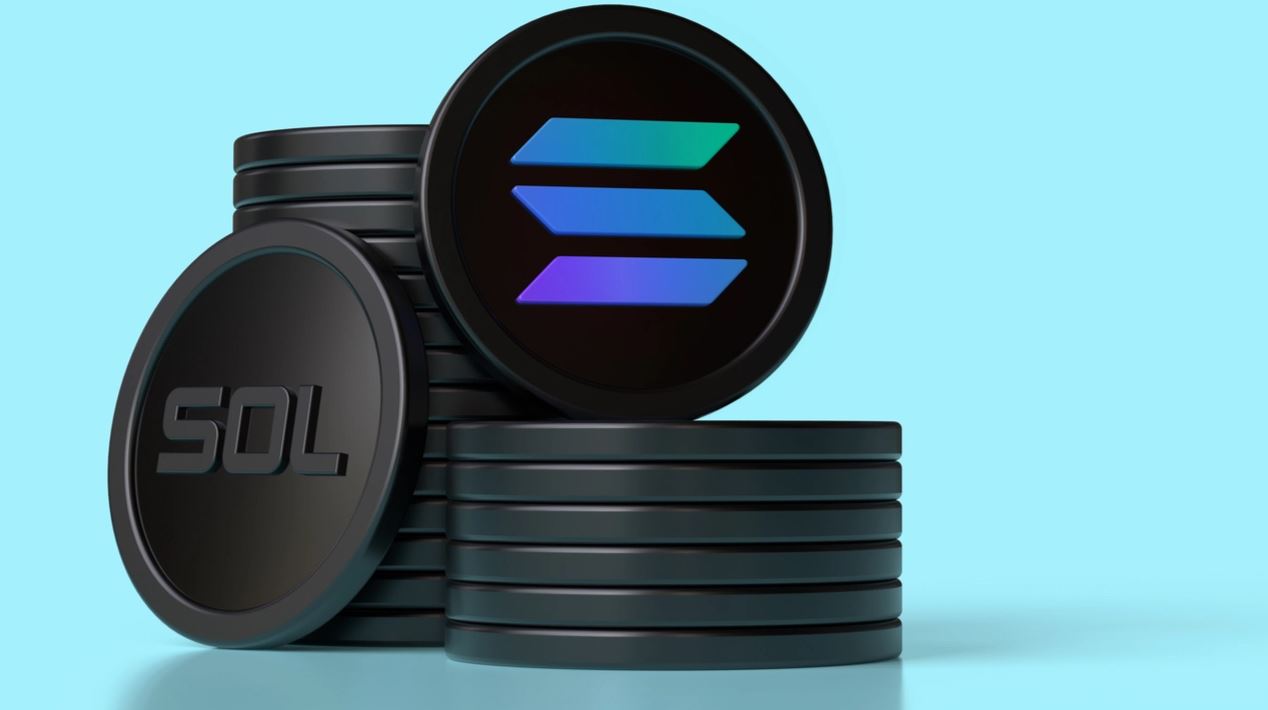 Staking with an exchange is perhaps a bit simpler as users don't need to go through the process of setting up their staking wallet before they delegate their assets.
Either way, whether you choose a wallet or an exchange to stake your crypto, ensure you're dealing with a secure and trustworthy platform before you begin. It's easy to verify legitimate methods by doing research and reading reviews.
Despite the security and anonymity that comes with holding crypto, there are still things to be aware of that could potentially harm your investments.
Is There Any Risk To Staking SOL?
As with most economic dealings, there are some risks to staking SOL that token holders must be aware of. The biggest risk involved with SOL staking is slashing. Slashing is the process of removing tokens and the destruction of some of the delegated stake due to malicious intent.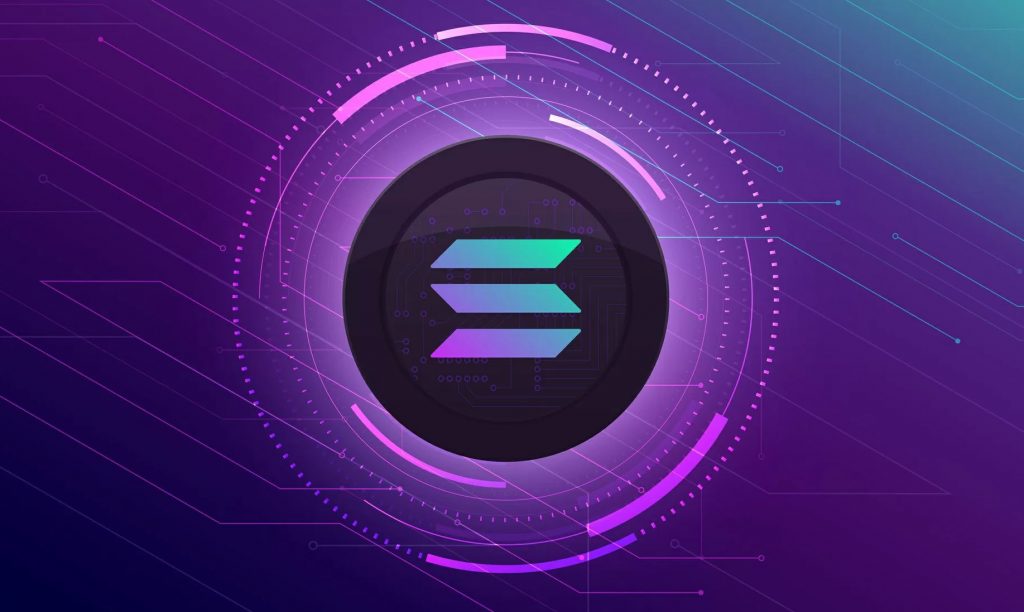 When slashing occurs with a particular validator, all the token holders who have delegated to the validator in question will lose some of their delegated stake, which in turn decreases the potential of rewards for the validator and the strength of the network.
To prevent slashing, token holders must delegate to credible validators and be sure not to delegate all their tokens to only one validator when staking.
Another risk with staking SOL applies to all avenues of the crypto market; crypto prices aren't fixed and can drop suddenly. There's no guarantee a price on a certain cryptocurrency will remain.
However, with the growth of the crypto market across the world since it was first introduced to the economy, there's much to be optimistic about for traders.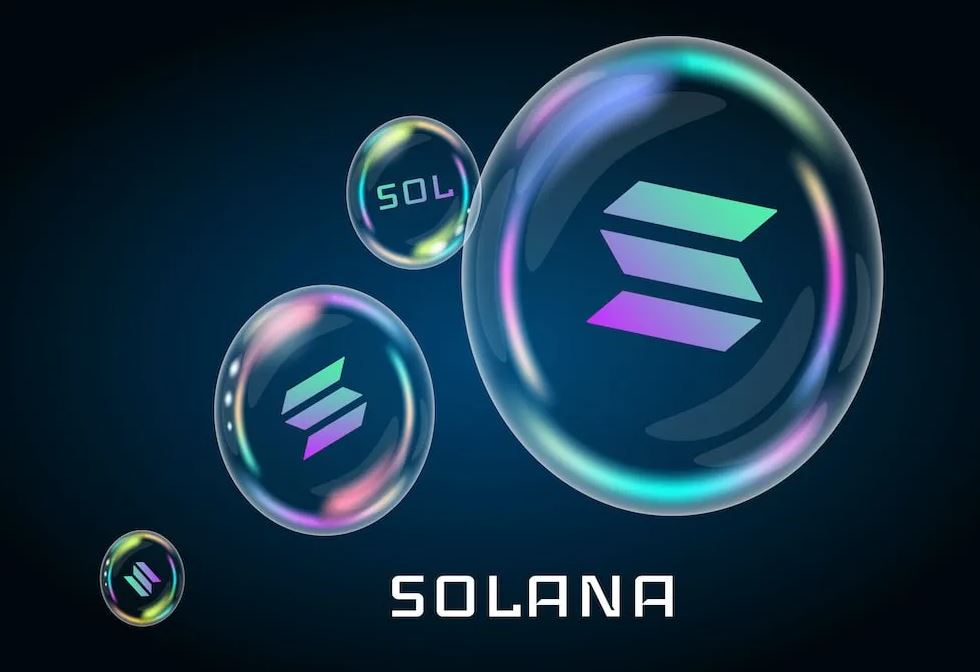 Investing in crypto is common enough now that there's a world of knowledge out there that can help buyers make the best and most profitable decisions.
There's always a risk when dealing with the crypto market, which is why traders like to know when the rewards of investment potentially outweigh the risks. The rewards seem to be strong enough for token holders of SOL to proceed when it comes to crypto staking.
What is SOL Staking Rewards?
Solana makes use of a proof-of-stake (PoS) design to align the incentives of the token holders and the validators they delegate to. The PoS model ensures both the security of the network and the yield of SOL staking rewards for validators and token holders alike.
SOL stake rewards are dependent on how much SOL is staked, how long it's staked for and the algorithm activity of the validator. You can calculate your possible staking rewards with a staking calculator online.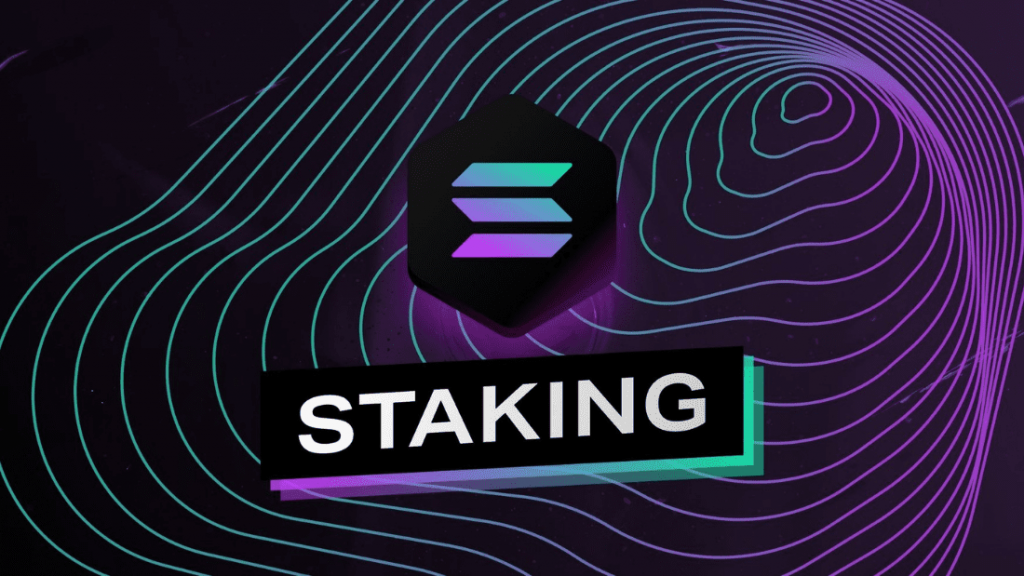 How Much Can I Make Staking SOL?
The amount you could earn with Solana staking rewards depends on how much you delegate and the time period of the delegation. You can calculate how much you could potentially earn with your SOL stake by using a SOL Staking Rewards Calculator.
With the calculator, you'll enter the amount of your stake (either all your tokens or just a portion) and set the APY (Annual Percentage Yield) to its current network percentage (8% at the time of this review).
Alternatively, you could adjust the calculation if you predict the SOL staking rates will increase, and then you can adjust the APY percentage.
Once you have given all the necessary information, the calculator will generate a forecasted amount of what you could potentially earn with SOL staking. Coin value will fluctuate depending on the particulars of the delegation and the APY of the network.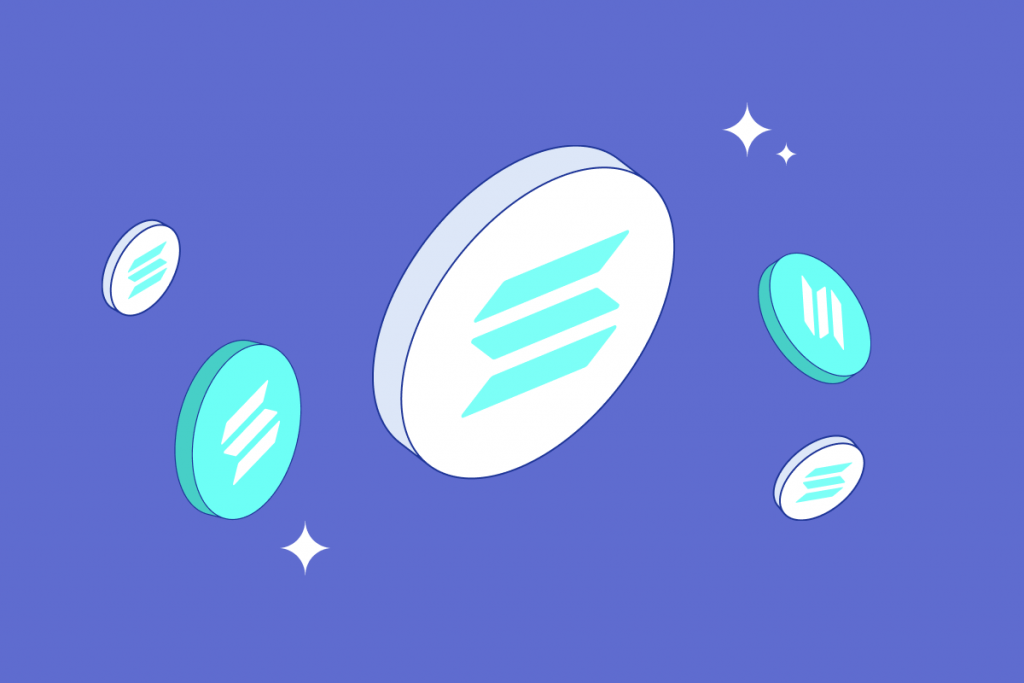 How Frequent Are Payouts?
Once you begin the process of SOL staking, you'll have to wait a bit before you start earning and can access your rewards. Solana employs 'epochs' on its validation network. Epochs are a period of two or three days.
To earn interest on Solana, you'll have to wait until the end of an epoch for your SOL staking yield to be available at the start of the next one. So, for example, if you begin staking your SOL during epoch 40, you'll only start earning rewards between epochs 42 or 43. Your rewards will accumulate with every epoch, and you can access them by unstaking your Solana.
How Long Does It Take To Unstake Solana?
Token holders can unstake their SOL to access their tokens at any time during the staking process and still earn any rewards they've accumulated up to the end of their staking agreement.
Once they choose to unstake, they have to wait until the next epoch begins for the unstaking process to be completed. Once the waiting period is over, token holders can then withdraw their stake balance and access their tokens.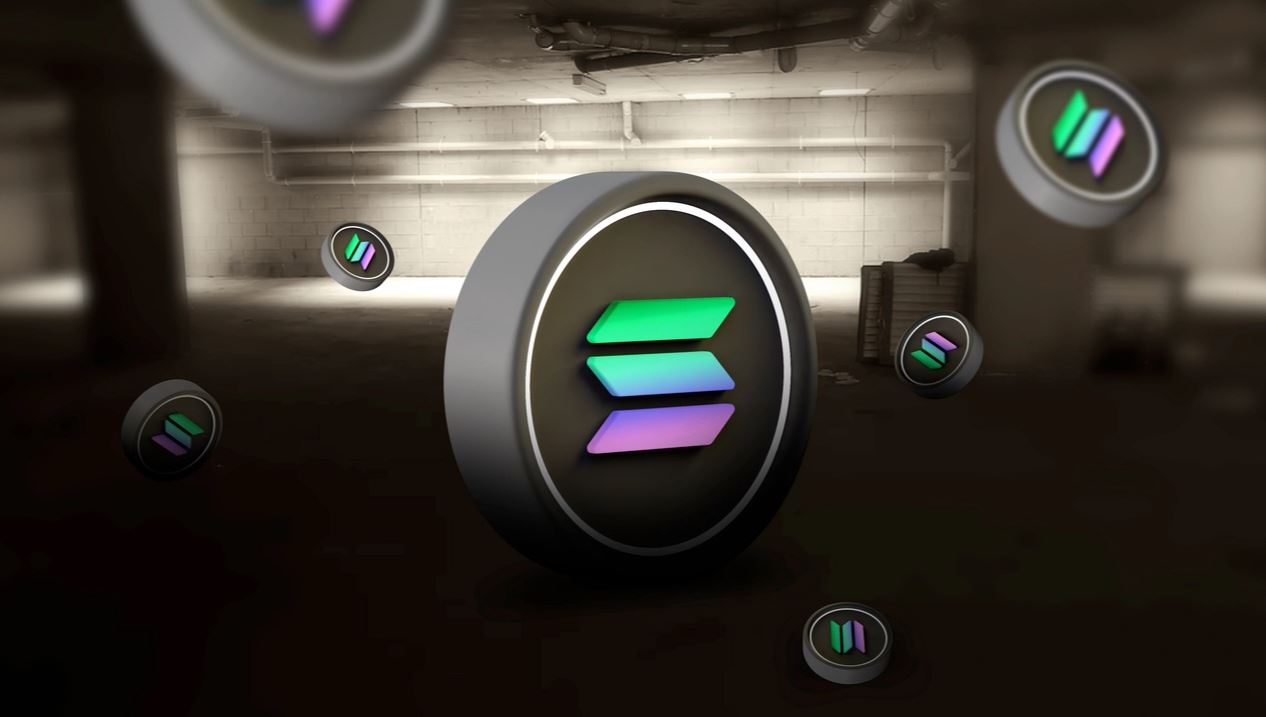 Where To Stake Solana?
The best way to stake SOL will depend on what a token holder is looking for. The good news is that there are plenty of options when it comes to SOL staking through crypto wallets and crypto exchanges.
To make the most out of your SOL crypto staking experience, it's important to stake with a credible exchange or wallet for optimum security and benefits.
Whether you're looking for the best staking exchange for traders, the best for flexible staking, the best overall or a good wallet for staking, we've got some great recommendations for you. Let's take a look at four crypto exchanges and one SOL staking wallet you can use for SOL staking.
FTX SOL Staking
FTX is a crypto exchange launched by Sam Bankman-Fried in 2019. It's one of the most popular crypto exchanges for investors who deal with spot trading and futures trading, and it's one of the best exchanges for traders interested in SOL staking.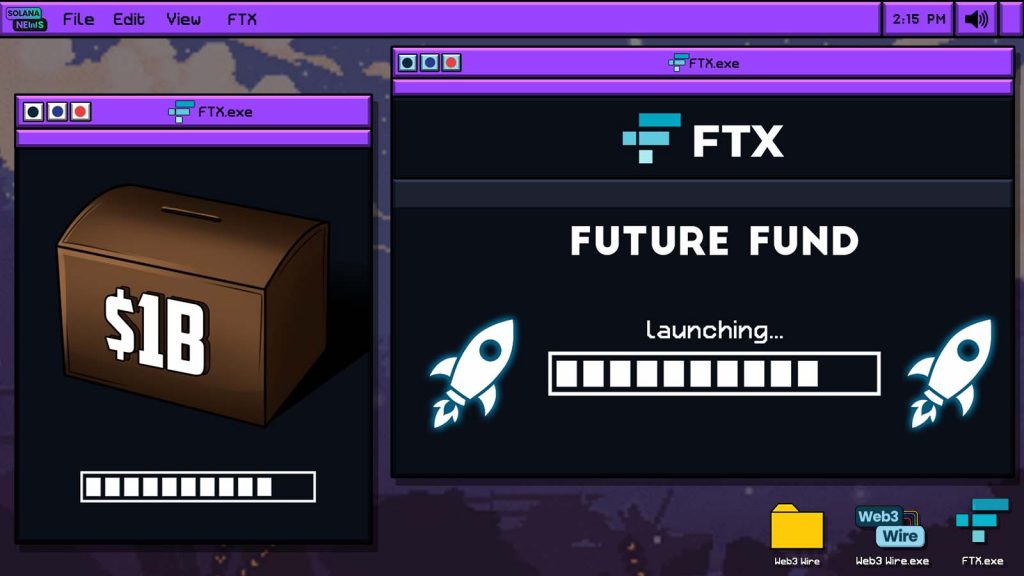 If you're interested in staking SOL on FTX, you can do so through the FTX desktop platform or via the app. When FTX SOL staking, users will earn around 6% APY, and their rewards will accumulate in their linked staking SOL FTX wallet each day.
FTX charges a 10% unstaking fee if token holders wish to access their stake immediately. Otherwise, their stake will be unlocked within seven days if they wish to withdraw it (during this period, they won't earn any rewards on their stake).
If you're an experienced crypto trader who wants to stake SOL FTX, is the perfect exchange for you. As long as you're not a resident of the United States and are set up to begin SOL staking FTX, offers everything you need to stake successfully on their desktop and mobile app.
Binance SOL Staking
When it comes to crypto trading in general, let alone SOL staking Binance, is one of the best exchanges in the world. Its daily volume far outweighs that of its competitors, and its vast availability of different cryptocurrencies benefits international traders and its recent NFT market.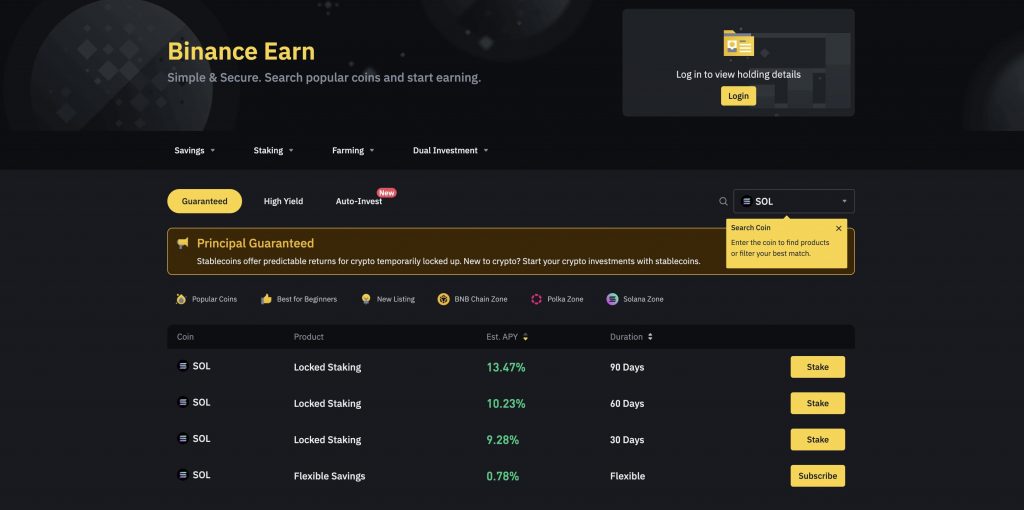 Staking SOL on Binance has already been in operation since 2021, beginning with an incredible APY of 43%. Unfortunately, this rate decreased as the staking of Solana became more commonplace. Still, when it comes to SOL staking Binance, this is a great platform to work with.
With Binance staking SOL allows users to lock their assets for periods of thirty, sixty, or ninety days. The longer the time period of staking, the higher the rewards will be – reaching 9%, 10% and 13%, depending on which period token holders choose.
Interest with Binance is calculated daily, but users must be sure to unlock their stake at the right time to avoid loss of rewards. If you trade with Binance, SOL staking certainly won't be the only feature you can enjoy. This platform offers some of the best features on the crypto market, especially for international investors.
Kraken SOL Staking
Kraken is another widely popular crypto exchange that's particularly great for investors who live in the United States. Users can safely buy, trade, sell and stake crypto with this platform, including Solana. Staking SOL on Kraken will earn token holders between 6-6.5% APY.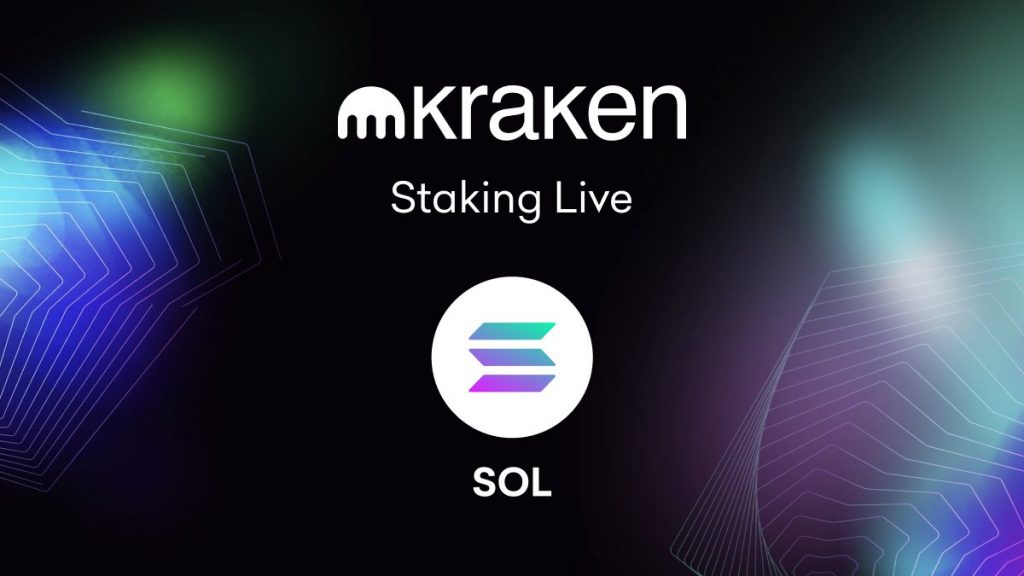 If you're looking for a simple platform or you're a beginner in SOL staking Kraken, is the exchange for you. This crypto exchange is well-known for its user-friendly interface, which makes it perfect for anyone new to crypto staking or the crypto world in general.
Additionally, with Kraken, SOL staking terms aren't as rigid as other exchanges. If users deposit a minimum of 0.2 SOL into their staking contract, they qualify to earn rewards and unstake at any time without the inconvenience of a locking period.
SOL Staking Ledger
Ledger is a hardware crypto wallet made up of a secure element and a proprietary OS that has given it a great reputation among crypto users. In order to stake their SOL with Ledger, token holders can follow these steps:
Download and install the Ledger Live app (update the firmware: Nano S/Nano S Plus/Nano X).
Install the Solana app onto your Ledger by opening Ledger and finding the Manager tab, connecting and unlocking your Ledger, searching for the SOL app on the catalogue, and selecting it to install.
Create your Ledger SOL account.
Enable blind signing in the Solana app within your Ledger.
You can now begin delegating and staking your SOL.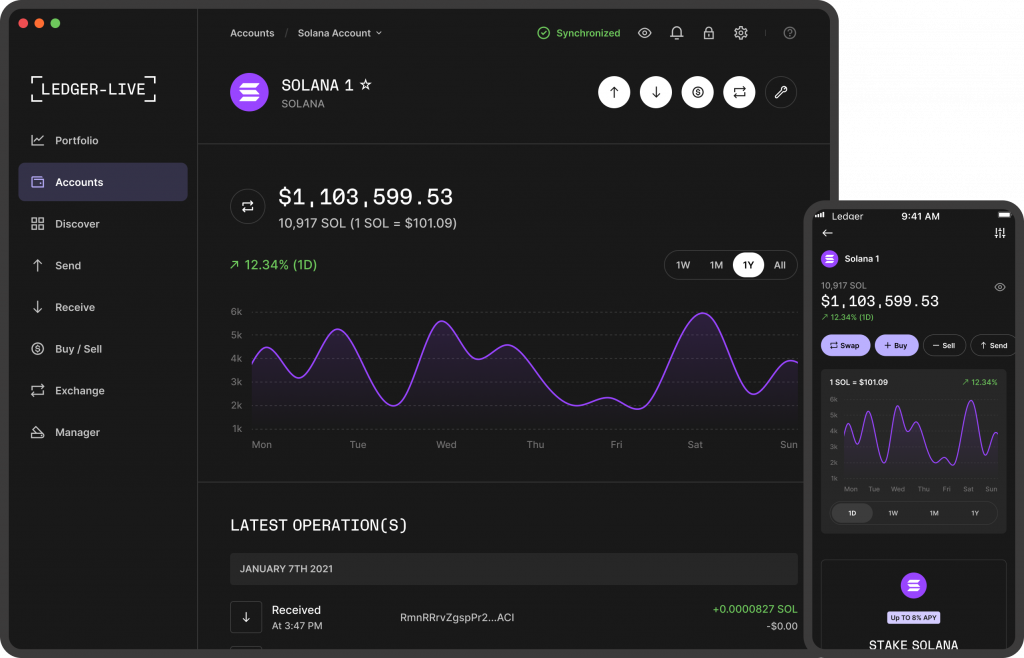 The benefits of using Ledger as your chosen crypto wallet are:
The security of the wallet is one of the strongest in the industry, holding your crypto in its hardware as soon as you buy it.
Users have full access to their wallet at all times, and they retain full control of their assets.
The wallet is easy to use, and the transactions are quick.
Not only are users able to buy crypto with Ledger, but they can also exchange, sell, expand and stake with this wallet too.
SOL Staking Coinbase
Token holders wouldn't have previously been able to stake SOL on Coinbase, but the exchange now allows SOL staking through Coinbase Cloud.
Coinbase Cloud operated one of the first validators on Solana's Tour-de-SOL testnet and worked with the SOL crypto team to assist in the network's growth and security.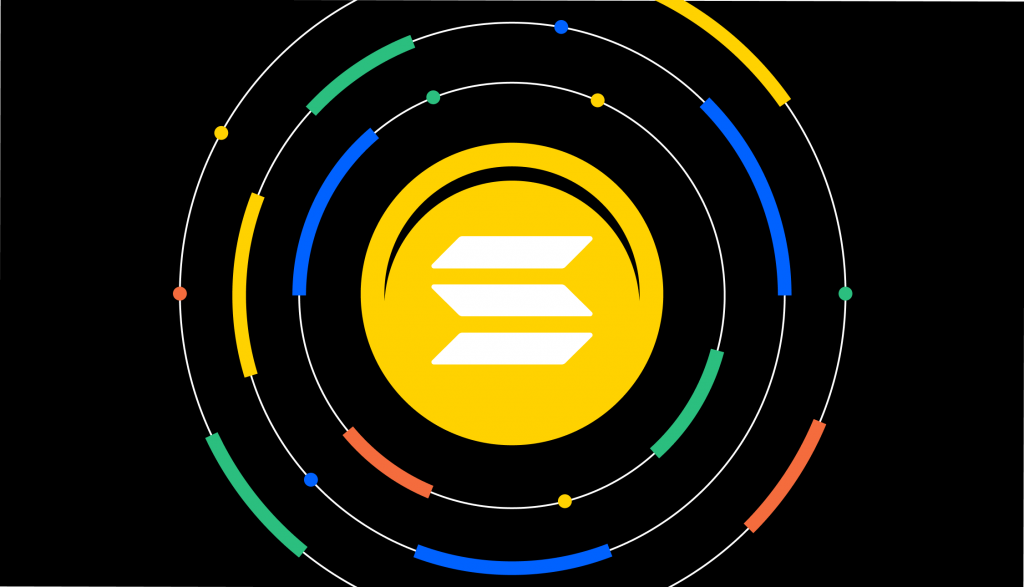 It's no mystery that Solana requires advanced and efficient technology to run smoothly, and Coinbase Cloud offers a great infrastructure that contributes to this.
Coinbase Cloud offers validator nodes that verify, produce blocks and help token holders share in overseeing the Solana network.
Users can stake their SOL with Coinbase Cloud's non-custodial public validators and earn rewards. Also, with Coinbase, SOL staking participation includes token holders having the ability to obtain feedback and input from Coinbase's specialists.
Coinbase strives to help build and improve the blockchain as much as it can, and it has the resources to do so. To sum up, if you're looking for an innovative and reliable crypto exchange to stake SOL, Coinbase, could be the perfect option for you.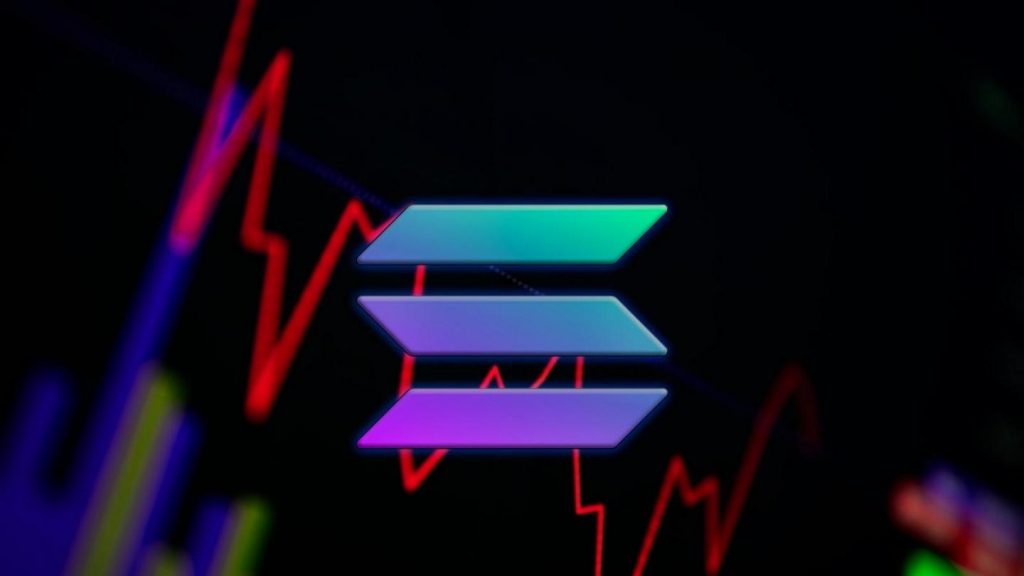 Solanda Staking Conclusion
There isn't much more we can tell you about Solana staking. As you've learned in this review, SOL staking is worthwhile and profitable if you're a crypto investor looking to contribute to the Solana network and earn rewards while doing so.
Token holders can earn more depending on how much they choose to stake, how long they delegate to a validator and the current market value of the network.
Always remember to ensure you stake Solana with trustworthy validators to avoid slashing. There are many options when it comes to how you stake your SOL, but the most reliable and beneficial are always through credible crypto exchanges and secure crypto-wallets.
If you're a SOL token holder and you want to embark on your staking journey, we hope we've left you feeling inspired and encouraged to get started.